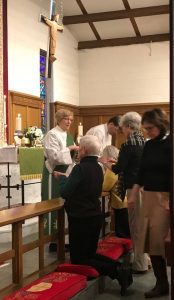 Welcome to St. Michael's
Here you will find a congregation where guests do not remain strangers for very long! 
We offer engaging worship for all generations, spiritual growth, service opportunities, Christian formation for young and old, and warm, welcoming fellowship for all of God's people.
Our worship offers relevant messages to help us put today's cultural message in perspective, and to help us live our lives in a real-time walk with Jesus. Our services have the richness of multiple generations coming together worship, and sharing in love and fellowship. After services, we gather in the church hall for fellowship, coffee/tea and food.
Founded as a mission in 1947, the groundbreaking on our present site took place in 1950, with additions in 1954 and 1960. The Little Thrift Shop was dedicated in 1961.
Our faith is joyfully grounded in the powerful message of Jesus Christ called the Good News. It is through our real-time relationship with Jesus Christ that we are called to many forms of worship and service.