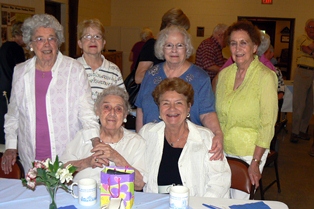 The Little Thrift Shop
St. Michael's Little Thrift Shop is a consignment/resale shop, the proceeds of which benefit St. Michael's ministry with those in need.  Parishioners who serve as Thrift Shop staff not only assist the congregation in its ministry, but also enjoy warm fellowship with church friends.  Customers become friends, and we invite those who "shop the Shop" to consider attending St. Michael's on Sundays. 

How We Serve
St. Michael's Little Thrift Shop is the main source of outreach funding for the church.  Surplus revenue is given to the ECW (Episcopal Church Women, the parish's main women's group) to disburse to charitable organizations.  In addition, all items not sold are given to non-profit groups.  
The shop is open Wednesday and Friday 10 am to 3 pm and Saturday 10 am to 1 pm.
There is a "Designer Rack," Clearance Room (1/2 off price), and a "Color Ticket" sale two weeks each month.  
We receive goods for sale on Friday from 10 am to 2 pm.  We accept ladies, men's and children's clothing, jewelry, household items, and holiday items in season.  
The Thrift Shop receives merchandise from consigners who receive 60% of the selling price, with the Thrift Shop receiving 40%.  
As a result of the hard work and dedication of the many The Little Thrift Shop volunteers, over $28,000 was contributed to St. Michael's and outreach ministries last year!