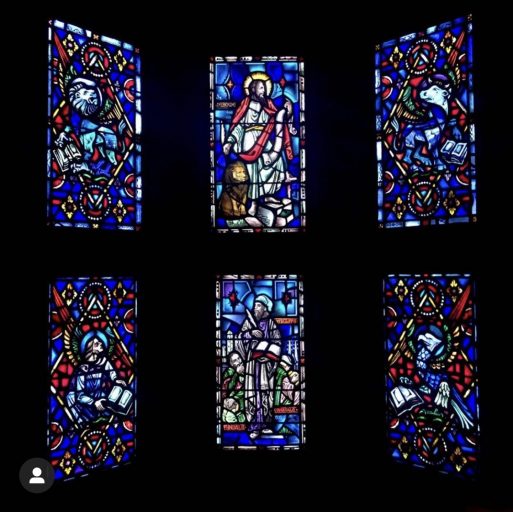 FACE MASKS & PHYSICAL DISTANCING
As our common and public life resumes it is clear that safe practices, including the wearing of face masks, will be necessary for some time. Two St. Michaeler's, Meg Krawczyk and Barbara Barringer, have been crafting homemade masks and are making those available. If you need one or know of someone who does, give Meg a call at 586-552-4207 to arrange for pick-up. Beyond the St. Michael's community, the Outreach Committee is checking with several of the places and agencies we support to determine where masks are needed.
Walking Reflections amid COVID19
~~ Jan Rhein, from Bradenton, Florida
While walking this morning I sentimentally recalled all the wonderful songs I learned at camp and as a camp counselor one summer between college years. I began to sing them as I walked along, feeling great solace in their words and the simplicity of the time when I learned them. We have gotten back to basics these days, spending time alone with lots of time to think as when we were children. Those were happy times without all the complications of being an adult. We had a childlike faith that all would work out well.

Today we are faced with an unknown and a little understood enemy. We keep apart from other people, distancing ourselves from one another. Touch with other people is something of the past. We long for the sight of friendly faces and the camaraderie we have with friends. Our church is closed to us, and we must be content with teleconferencing and Facebook services.  Our Thrift Shop and church friends are home in their homes apart from us. Our various activities which we are accustomed to doing are gone.

Luckily, in today's world we have FaceTime, Zoom and texting in addition to the telephone to keep in touch with friends and family. These interactions are helping us stay connected.

This was not the case when I was a child. Life was slower then. Very little immediate gratification existed.  We learned patience because things moved much more slowly. The memories of childhood are sustaining me as I walk. Those old songs are lifting me as I contemplate today's world. There is great comfort in their presence. Faith and love are surrounding me.

Peace be with you in this very trying time. Stay safe and well.